The Wizard
The Wizard Gluten-Free Organic Vegan Worcestershire Sauce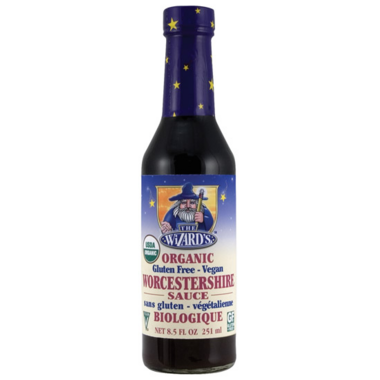 The Wizard
The Wizard Gluten-Free Organic Vegan Worcestershire Sauce
251 mL
The Wizard Gluten-Free Organic Vegan Worcestershire Sauce
is rated out of
5
by
13
.
---
Description
To create Organic Vegan Worcestershire, The Wizard has taken a very well-known and beloved table sauce and given it his special, magical twist. Common Worcestershire sauce contains anchovies, but not this one! The Wizard has created a delicious full-bodied, vegan Worcestershire sauce using exclusive ingredients from his plant-based pantry. Crafted from costly organic spices and seasonings, The Wizard's™ Organic Worcestershire Sauce is zesty and delicious on all your favourite foods, from veggie burgers to Bloody Mary's!

Features:
To The Wizard's knowledge, this is the world's only Gluten-Free Organic Worcestershire Sauce. A delight!
Certified Organic
Gluten-Free
Vegan
Ingredients: Apple Cider Vinegar*, Molasses*, Tamari* (Water, Soybeans*, Salt, alcohol*), Water, Cane Sugar, Salt, Tamarind*, Ginger, Lemon Juice Concentrate*, Garlic Powder*, Onion Powder*, Xanthan Gum, Shiitake Mushrooms Powder*, Allspice*, Red Pepper*, Orange Extract*, Clove*, Lemon Extract*, Natural Smoke Flavour. * Organic ingredients
Highlights

Features
To The Wizard's knowledge, this is the world's only Gluten-Free Organic Worcestershire Sauce. A delight! Certified Organic Gluten-Free Vegan
Ingredients
Organic Apple Cider Vinegar, Filtered Well Water, Organic Molasses, Organic Wheat-Free Tamari (Water, Organic Soybeans, Salt), Organic Dehydrated Cane Juice, Salt, Organic Lemon Juice Concentrate, Organic Ginger Puree, Organic Tamarind, Organic Cayenne Puree, Organic Garlic Powder, Xanthan Gum, Organic Shiitake Mushrooms, Organic Allspice, Organic Cloves, Organic Orange Extract, Organic Lemon Extract, Natural Onion Flavour (Onion Oil), Natural Smoke Flavour.
Shipping & Returns
Unfortunately, due to the nature of this item, we cannot accept any returns.
This product cannot be shipped to Remote locations.
Click here for more information
Rated

5

out of

5
by
DIWhy
from
The Wizard is a pantry staple!
Naturally, a vegan Worcestershire sauce is needed for certain recipes. I stumbled across this brand years ago, and never looked back! Try this... Brown some onion in a pan. Add vegan ground round, if you like. Add chopped, cooked tomatoes. Add chopped yellow & green bell pepper. Add The Wizard Worcestershire sauce, plus yellow mustard. Add salt & pepper to taste, plus some sugar (optional). Let simmer, covered, for just a few minutes. Add brown minute rice or pre-cooked rice, re-cover, and cook for 10 min's or so. Voilà! A delicious, filling meal in 20 minutes, from start to finish!
Date published: 2020-09-25
Rated

5

out of

5
by
Kaylee91
from
No fish !
I'm deathly allergic to fish and shellfish and my husband always gets upset that he can't add certain sauces to food because 1) there's hidden anchovies in so many things and 2) he doesn't want to accidentally try to kill me. I had never had Worcestershire sauce so I wasn't quite sure what I was missing but it is honesty delicious. My husband has commented to use less of this than a recipe calls for as it's quite strong and thicker than regular Worcestershire but he says it's a great substitute for those of us who cannot or will not eat fish.
Date published: 2020-04-18
Rated

5

out of

5
by
Linda
from
Oh my goodness, I am simply elated I finally found this "The Wizard Gluten-Free Organic Vegan Worcestershire Sauce" after searching online far and wide for it! Should have known if any online store carried it, Well.ca would! I'm vegan and nearly every vegan recipe I find, calls for vegan Worcestershire sauce. This magical sauce makes everything taste "meaty" and no vegan stew is complete without adding it! I was so ecstatic to find it that I bought two bottles! Thank you Well.ca, please never stop stocking this!
Date published: 2019-12-03
Rated

5

out of

5
by
Louise51
from
The only gluten free worcestershire sauce I use
This is by far the best and only available worcestershire sauce that is gluten free. Perfect for Caesars, marinades, homemade BBQ sauce and deviled eggs (yes, deviled eggs!). I buy several bottles at a time and hand it out to family so they can use it in their gluten free cooking when I visit!
Date published: 2020-12-04
Rated

5

out of

5
by
fromMuskoka
from
Perfect For Soups and Stews
We use this vegan Worcestershire sauce in all soups and stews. It is the perfect addition. The price is reasonable at well.ca and comparable to local shops. I usually buy four at a time because we use at least two bottles a month.
Date published: 2021-07-16
Rated

5

out of

5
by
Ali
from
Yum!
So happy to find this vegan version of Worcestershire. It definitely brings that classic flavour. Yum!
Date published: 2020-05-19
Rated

5

out of

5
by
Aileen
from
what a nice surprise, taste just like the regular worchestershire sauce, strong and bold. LOVE IT
Date published: 2019-03-07
Rated

5

out of

5
by
Spring16
from
What a treat!
Worcestershire has been missing in our fridge for quite sometime. Finding Wizard gluten free Worcestershire sauce has me making family favorites again .
Date published: 2021-02-18