Webber Naturals Magnesium Bisglycinate 200 mg
Raspberry Drink Mix
90g Powder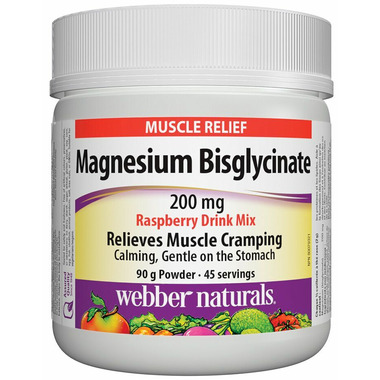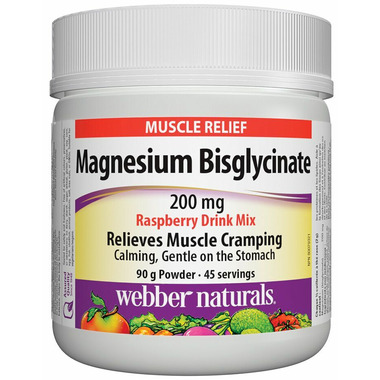 Webber Naturals Magnesium Bisglycinate 200 mg
Raspberry Drink Mix
90g Powder
Magnesium Bisglycinate from Webber Naturals is a more absorbable form of magnesium that is calming and gentle on the digestive system. As it does not require stomach acidity to be absorbed, it does not cause diarrhea or stomach upset. Magnesium helps maintain proper muscle function and normal electrolyte balance, and is a factor in the maintenance of good health.
Easier to absorb bisglycinate form of magnesium
Gentle on the stomach; does not cause stomach upset or diarrhea
Source of an electrolyte to help maintain normal electrolyte balance
Supports proper muscle function, including the heart muscle
Delicious raspberry flavour naturally sweetened with xylitol and stevia
45 servings per bottle
Directions:

Recommended dosage (adults):
Dissolve level ½ teaspoon (2 g) daily
with 250 mL of water or other preferred
liquids, or as directed by a physician.
Keep out of reach of children.

Ingredients:
Each level ½ teaspoon (2 g) contains:
Magnesium (bisglycinate) .......... 200 mg
Free of artificial colours, preservatives,
or sweeteners; no dairy, starch, sugar, wheat, gluten, yeast, soy, corn,
egg, fish, shellfish, animal products, salt, tree nuts, or GMOs. Suitable for
vegetarians/vegans. Canadian Brand