Webber Naturals Osteo Joint Ease
With InflamEase, and Glucosamine Chondroitin
90 caplets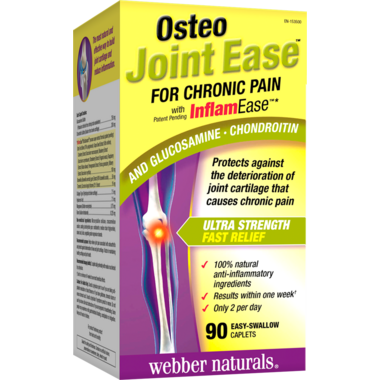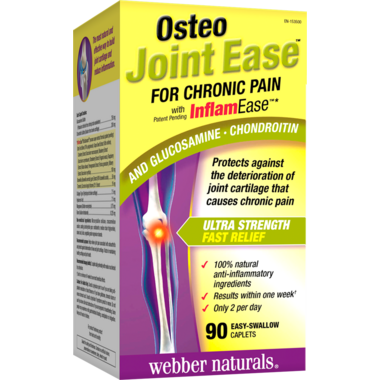 Webber Naturals Osteo Joint Ease
With InflamEase, and Glucosamine Chondroitin
90 caplets
An innovative 100% natural formula that addresses pain associated with osteoarthritis and protects against deterioration of cartilage, Osteo Joint Ease from Webber naturals contains InflamEase, a synergistic combination of antioxidant, anti-inflammatory, and pain-relieving botanicals that relieve pain and inflammation fast and without side effects.
Benefits:
InflamEase combines antioxidant, anti-inflammatory, and pain-relieving botanicals
Helps relieve joint pain associated with osteoarthritis
Actively protects against the deterioration of cartilage
Restores flexibility and joint integrity
Therapeutic dosage at 2 caplets daily
Free of artificial colours, preservatives, or sweeteners; no dairy, starch, sugar,
wheat, gluten, yeast, soy, egg, tree nuts, or GMOs. Canadian brand.
Directions:
Recommended dosage (adults): 2 caplets daily preferably with meals or as directed by a physician.Use for a minimum of 1 month to see beneficial effects.
Ingredients:
Each Caplet Contains:
Glucosamine Sulfate (Potassium chloride from shrimp/crab exoskeleton) 750 mg
Chondroitin Sulfate (Sodium from bovine cartilage) 200 mg
*InflamEaseTM BioStandardTM process super extract formula (patent pending):
Ultra Fruit blend (Standardized to 76% polyphenols) 100 mg
Proprietary fruit blend of: grape (Vitis vinifera), Pomegranate (Punica granatum), Strawberry (Fragaria vesca), Cranberry (Vaccinium macrocarpon), blueberry (Vaccinium corymbosum), Raspberry (Rubus idaeus), bilberry (Vaccinium myrtillus)
Boswellia (Boswellia serrata) (gum oleoresin) Extract (60% boswellic acids) 50 mg
Turmeric (Curcuma longa) (rhizome) 25:1 Extract 20 mg
Hyaluronic acid 7.5 mg
Manganese (Sulfate monohydrate) 0.75 mg
Boron (disodium tetraborate decahydrate) 0.225 mg
Caution: 

Consult a physician prior to use if you are pregnant or breastfeeding, if you have gallstones or a bile duct obstruction, if you have stomach ulcers, excess stomach acid or if symptoms persist or worsen. Some people may experience mild gastrointestinal bloating, constipation or indigestion. Keep out of reach of children.