Webber Naturals Resveratrol with Grape Seed Extract 200/25 mg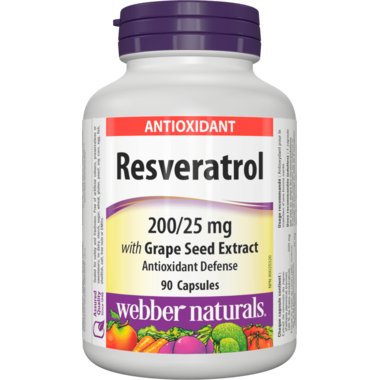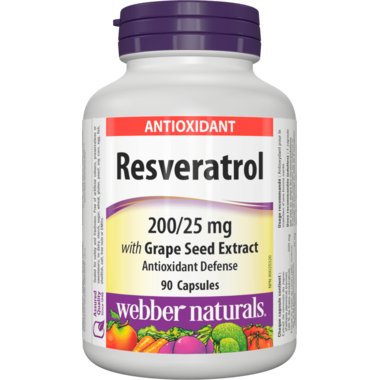 Webber Naturals Resveratrol with Grape Seed Extract 200/25 mg
Resveratrol with Grape Seed Extract from webber naturals contains only the active form of resveratrol from Japanese Knotweed, trans-resveratrol. Combined with standardized Grape Seed Extract, this potent antioxidant provides anti-aging protection while supporting cardiovascular health and immune function. Resveratrol can be used on its own or with a daily multivitamin.

Contains trans-resveratrol, the active form of resveratrol. Japanese Knotweed is an excellent source of trans-resveratrol and a sustainable crop. Also contains antioxidant grape seed extract. Grape seed extract supports circulation, vein health, and vision.
Directions:

Recommended dosage (adults): 1 capsule daily or as directed by a physician. Consult a physician for use beyond 6 weeks.
Ingredients:

Each Capsule Contains: Japanese Knotweed Extract (Fallopia japonica) (root) (20% trans-resveratrol) 200 mg Grape Seed Extract (Vitis vinifera) (80% Oligomeric proanthocyanidins) 25 mg Do not use if you are pregnant or breastfeeding. Keep out of reach of children.
Free of artificial colours, preservatives, or sweeteners; no dairy, starch, sugar, wheat, gluten, yeast, soy, corn, egg, fish, shellfish, salt, tree nuts, or GMOs. Canadian Brand