Adrien Gagnon PurRed 100% Krill 1000 mg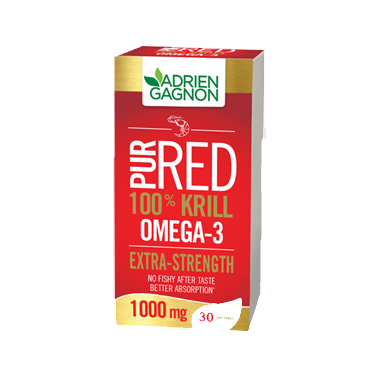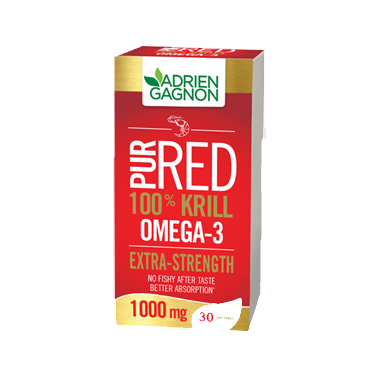 Adrien Gagnon PurRed 100% Krill 1000 mg
Adrien Gagnon krill is fished in Antarctica and is certified Friend of the Sea, which means fisheries are eco-friendly and comply with a series of criteria that ensure sustainability, species and environment protection. It has no fishy after taste.

To whom is this product recommended?
Anyone trying to reach its daily recommended omega-3 intake.
Excellent for the people having difficulty swallowing big omega-3 softgels.
Alternative for people having difficulty digesting fish oil.
Benefits & Recommended for:
Krill is part of the crustacean family and resembles a tiny shrimp. Krill is a natural source of EPA and DHA omega-3 fatty acids.
Most Canadians do not eat enough fish to fulfill their daily omega-3 requirement. This product makes it easier to get the recommended daily amount.
Omega-3s in krill oil come in a phospholipid form, which is easier to digest and to assimilate.
Krill oil also provides astaxanthin, a powerful antioxidant, offering a good protection against free radicals.
Precautions & Adverse Effects:
Do not use if you are allergic to shellfish.
Consult a health care practitioner prior to use if you are pregnant or breastfeeding.
Dosage:
Adults: take 2 softgels daily, with a meal.