Earol
Earol Olive Oil Spray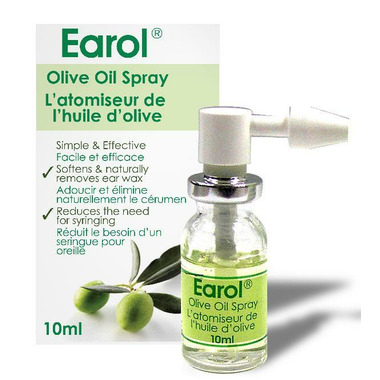 Earol
Earol Olive Oil Spray
10 mL
Earol Olive Oil Spray
is rated out of
5
by
23
.
---
Description
Earol Spray has a simple yet unique delivery system capable of dispensing a discrete unit dose of olive oil into the outer ear. It eliminates the need for the use of a dropper or cotton wool therefore significantly reducing spillage or waste.

In preparation for syringing, the NHS now recommend that olive oil is instilled into the auditory canal to soften the earwax. Earol has been specifically designed to simplify this process. Earol is certainly the best news for sufferers of blocked ears - it is the perfect way to deal with earwax
Shipping & Returns
Unfortunately, due to the nature of this item, we cannot accept any returns.
We are only able to ship this item to Canadian customers.
Click here for more information
Rated

5

out of

5
by
Jessica
from
This stuff is amazing. We were told that our toddler's hearing was being affected by ear wax buildup, but the pediatrician was reluctant to flush his ears due to his age. We tried oil drops for several weeks with limited success until I stumbled across this product. Within a few days of using it, pieces of ear wax started coming out of his ears. I am so thankful we found this!!
Date published: 2012-05-08
Rated

5

out of

5
by
Beverly
from
So glad to have found this product! I tried it for the first time and I really find the dispensing method so much easier to use that trying to guess how much oil to use. I have had issues with wax and finally I have a super easy way to deal with it. I keep it on my bedside table, warm it slightly in my hand or under my arm then do one ear, the next night the other. So simple. I will definitely keep purchasing this product.
Date published: 2017-12-28
Rated

5

out of

5
by
Feroze
from
Very happy with my purchase. Ordered a second bottle even though first one is not finished. Ears feel good not itchy. Ofcounse the Wells legendary high quality service are a joy to experience.
Date published: 2014-11-15
Rated

4

out of

5
by
Shirley
from
I found this product very easy to use and it worked very well to get soften and remove my ear wax, much easier than using a dropper and oil, less messy and doesn't plug your ear.
Date published: 2014-02-04
Rated

5

out of

5
by
Maude
from
This is a must for clearing the wax from my young children's ears. It's a natural product and easy to use.
Date published: 2019-08-21
Rated

5

out of

5
by
Louise
from
I will continue to order Earol, it is now a permanent fixture in my daily routine. The dispenser is perfect and delivers the perfect amount of oil. You can continue on with your busy life without any overflow. Love, love having discovered this at Well!!
Date published: 2019-03-01
Rated

5

out of

5
by
Christine A.
from
Natural and great results
I have been using this for quite a while. I re-ordered it from Well because I ran out of the product. A MUST have for me!
Date published: 2020-05-22
Rated

5

out of

5
by
Em
from
Great for removing ear wax
This is a great design to remove ear wax from my kid's ears. Way better than putting drops of oil in the ear.
Date published: 2021-10-24