Organika Brazilian Green Bee Propolis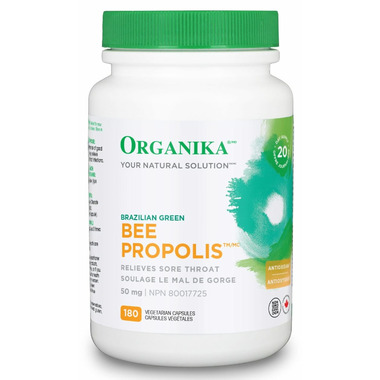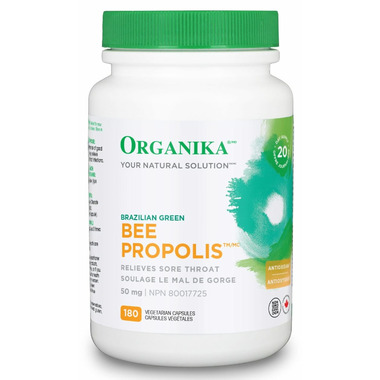 Organika Brazilian Green Bee Propolis
Introducing Brazilian Green Bee Propolis™, the newest and most coveted propolis to hit the natural health market. This product is not only a natural source of antioxidants important for the maintenance of good health but has also been used in Herbal Medicine to help relieve sore throat, other mouth and throat infections and inflammations of the mucous membrane.
Sourced from Africanized Honey Bees who are stronger and less susceptible to disease. Sustainably sourced from the Brazillian Amazon.
Benefits
:
Relieves sore throat and other mouth and throat infections (ie. cold sores)

Essential for combating allergies, the flu season and more
Natural source of antioxidants to help destroy free radicals
Recommended Dosage: Take 2 to 3 capsules 3 times per day with a glass of water.

EACH VEGETARIAN CAPSULE CONTAINS
Medicinal Iingredients: Bee Propolis (Bee hive of the honey bee (Apis mellifera L.)) 50 mg

Non-medicinal Ingredients: Microcrystalline Cellulose, Magnesium Stearate, Tapioca, Hypromellose / Pullulan (Vegetarian Capsule)
Caution: Consult a health care practitioner prior to use if you are allergic to bee products, poplar tree products, or balsam of Peru; or if you are pregnant or breastfeeding. Consult a health care practitioner if symptoms persist or worsen. Hypersensitivity, such as allergy, has been known to occur; in which case, discontinue use immediately.