SISU
SISU Omega 3 1000 mg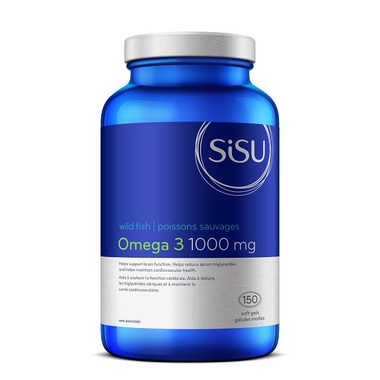 SISU
SISU Omega 3 1000 mg
Description
SISU Omega 3 is a source of omega 3 fatty acids (EPA and DHA) for the maintenance of good health. Helps support brain function. Helps reduce serum triglycerides and helps maintain cardiovascular health.
SISU Advantages:
IFOS (International Fish Oil Standards) tested for guaranteed purity
Every lot meets strict limits for environmental contaminants such as PCBs, dioxins, furans, and heavy metals, including mercury and lead
Contains no ingredients that are a source of gluten
Good Manufacturing Practices standards
NPN approved
Dosage:
(Adult) Take 3 capsules daily with meals or as directed by a health care practitioner.
Highlights

Features
High-potency wild fish oil standardized to contain a minimum of 40% EPA and 20% DHA
Vitamin E added as a natural antioxidant and preservative
Processed using molecular distillation to concentrate the active ingredients and eliminate contaminants such as mercury, PCBs, and dioxins
Eicosapentaenoic acid (EPA) and docosahexaenoic acid (DHA) in omega 3 are vital to many aspects of heart health
EPA and DHA help to control inflammation and may be useful against mild allergic reactions, joint swelling, and gastrointestinal ulcers
Omega 3 supports brain health and provides support against depression and migraines
Ingredients
Medicinal: (per capsule) Fish oil...1,000 mg - (body oils of anchovy, sardine and salmon) Providing 400 mg EPA (eicosapentaenoic acid) and 200 mg DHA (docosahexaenoic acid) Non-medicinal: tocopherol (natural vitamin E). Capsule: glycerin, purified water, gelatin.
Shipping & Returns