Aura Cacia
Aura Cacia Sage Essential Oil
100% Pure Essential Oil 15 mL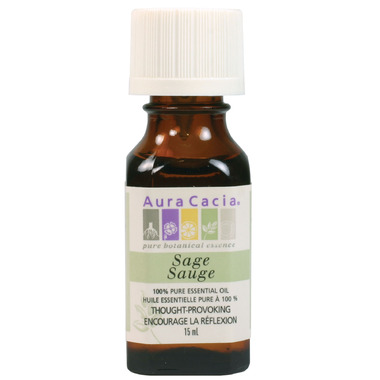 100% Pure Essential Oil
15 mL
---
Description
Distilled from the common culinary garden plant, sage is a potent essential oil and should be used with discretion. Try one or two drops in combination with lavandin for a purifying diffusion.
Botanical Name:
Salvia officinalis
Ingredients:
Salvia officinalis (sage) oil
Product Notes:
Color: Clear, colorless to pale yellow
Viscosity: Mobile
Top Note: Fresh, strong sweet
Middle Note: Herbaceous-camphoraceous, a thujone aroma
Dry Note: Medium tenacity, sweet-herbaceous
Aromatherapy Actions: Warm, soothing, cheering
Safety Data: Moderately toxic, skin irritant. Avoid during pregnancy. Avoid if epileptic or with high blood pressure.
Highlights